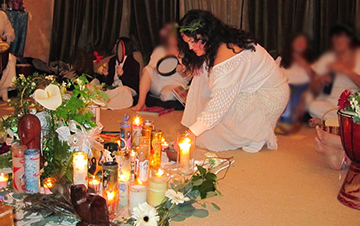 Aloha Daughters of the Goddess,
Summer Solstice is the longest day and shortest night of the year.  It is high Summer when everything is alive and abundant.  The Sun is heating up the soil and adding extra energy into the growing plants, trees and flowers.  Everything is growing and flourishing, fruiting and seeding.  From Summer Solstice forward the days start slowly getting shorter and we continue the cycle moving forward into the time of the Harvest to come.  Summer Solstice is also the birthday/anniversary of Daughters of the Goddess.  The first Daughters of the Goddess Ritual was held in 1996 in the backyard of Kahuna Leilani's house.  And for the last 25 years has continued to serve and bring together womyn and girls to celebrate and pray to the Goddess in all Her sacred forms.  This is a time to be free (especially after this last year) to come out into the Sun/Moon and to celebrate that fiery energy that shines so brightly with ourselves and on the Earth.  It is a time to celebrate our Temple, the Goddess, and all of the blessings we have received.  And in honor of our birthday/anniversary celebration we call to Magu.
Summer Solstice with Kahuna Leilani
Daughters of the Goddess 25th Anniversary
Magu ~ Chinese Goddess of Longevity,
Prophecy, Healing and Hamp/Cannabis
Saturday, June 19th 2021   7pm – 10pm
Waxing Moon in Scorpio, Sun in Cancer
Concord Locale – Directions upon RSVP
$25 per ritual/$15 first time visit
Magu is a Chinese Goddess celebrated widely across Asia as a deity of longevity, birthday celebration, prophecy, healing and cannabis.  She is known as Mago in Korean and Mako in Japanese.  She is often depicted flying on a egret or crane, or riding a deer.  She is most often seen holding peaches which are symbols of longevity, and a beaker of peach wine with a glass ready to pour.  Before becoming immortal She freed the slaves who were in labor under Her evil father.  She is associated with the elixir/wine of longevity which was presented to Xi Wangmu in celebration of Her birthday.  For thousands of years cannabis has been used for healing and in ritual for prophecy. Often times being put into the censors and burned during meditation to aid in connection to ancestors and prophecy.  Magu's main place of worship and home is said to be on sacred Mount Tai located in the Shandong province in western China.  The mountain is the Eastern Mountain of the Sacred Mountains of China, it is associated with Sunrise, birth and renewal, and is often thought of as the most important of the five.  It has been a place of worship for at least 3000 years and was one of the most important ceremonial centers of China for a large period of time.
Summer Solstice is a ritual of gratitude, and through it all we do have a lot to be grateful for.  For the altar, please bring a candle the color of the Sun, any images of Magu, Egret, Crane, & Deer.  And please bring some peaches or something yummy made out of peaches.  If you use cannabis as a healing please bring your salves, tinctures, oils to receive blessings on the altar and your journey with the healing properties.  At our Summer Solstice ritual, it is our tradition to redecorate our Temple Broom with flowers, herbs, ribbons and wishes for the coming year.  Please also bring some flowers, herbs, or beauties from nature to tie your wishes on.  As this is a celebration if you have some poetry, music/song, dance, or other offering of gratitude please bring it with you.
Please see our participation page for more information on attending our ceremonies.