Celebrate Lei Day & Haumea Hawaiian Earth Mother
Daughters of the Goddess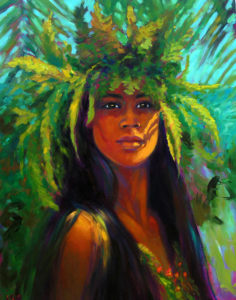 Image Credit by Isa Marie
Aloha Daughters of the Goddess:
There is nothing more beautiful than a group of womyn, sitting in the Sun, listening to Hawaiian music, creating gorgeous fragrant flower leis to adorn themselves.  Come and join us for an afternoon of Aloha!
Celebrate Lei Day & Haumea Hawaiian Earth Mother
Monday, May 9th, 2022
Moon in Leo, Sun in Taurus
Lafayette locale, directions given upon RSVP
Please note ritual time is 11:30am – 3:30pm
$25 per ritual/$15 first time visit
see website for series discount
Haumea is the Hawaiian Earth Mother who birthed all of Her children from different parts of Her body.  She is called Papa, Papa-Haumea, and Papahanaumoku.  She is said to be the fire that sits within the volcano of the islands She created.  She is the fire that sits within us.  This Mother Goddess also has the ability to turn herself into anything She wants, even Her own daughter or granddaughter.  The Breadfruit Tree is another of Her forms, the fruit of which is a sacred food of Hawaiians.
In 1929 Lei Day became an official holiday in Hawaii.  A lei po'o, a lei worn on your head, often referred to as a haku lei, is given or worn as a symbol to celebrate life, especially for birthdays, graduations, or anniversaries. Leis are a symbol of Aloha and a circle of love that has no end.  They are an important representation of the Hawaiian Spirit and a special way to show our respect to the culture that is a huge part of our Temple.  During our ritual we will be making haku leis together, while enjoying Hawaiian music, and our creativeness with our sisters.   In keeping with the Spirit of celebration it is also the time that we get to celebrate the birthday of our Kahuna.  Let's shower her with love and gratitude.
For this ritual, please bring two bunches of flowers for your own Haku Lei making.  Wear your Hawaiian clothes, pareos, something flowery.  Please bring a snack to share, and something to sit on.  We will have raffia for you, but if you prefer to bring your own, please do.  Bring your Hawaiian word if you have one from a previous ritual.  If you don't have one you can pick one.  For the altar, please bring a candle in a glass novena, that is any color of the rainbow, and any symbols or pictures of Haumea.
Daughters of the Goddess Womyn's Temple is located in the San Francisco Bay Area, with most events held in the San Francisco East Bay.
If you are interested in participating in a ritual or celebration, please help out by doing the following:
Please bring a snack to share (if possible, food of the culture we are celebrating), washable eating utensils (bowl, cup, plate, utensils, etc. In honor of Mother Earth, we do not provide disposable items), a candle (for safety reasons, we highly recommend a candle in a glass container, often called a novena), and pillow or chair to sit on to all rituals.  For more information about our rituals please visit our FAQ's page.
Please check the web page for the specific ritual to see what items to bring and how to prepare yourself. Please take the time to read this, especially if you are a newcomer.  New information is added from time to time so even if you feel you have already seen this, it is important to check back in every now and then.
E-mail, Call or Write to Kahuna Leilani as soon as possible to RSVP—this includes those womyn who have signed up for the series or if you have already informed us that you will be attending. This is not a drop-in circle. Please do not show up if you have not contacted Kahuna Leilani first.
Call: 925-787-9247
E-Mail: Leilani@DaughtersoftheGoddess.com
Please be on time!! If you are late, we wait to begin ritual until you arrive unless you call to tell us otherwise.
We highly prefer not to collect monies on the day of the ritual. Please send a check to:
Daughters of the Goddess
3527 Mt. Diablo Blvd., #353
Lafayette, CA 94549.
***Please note, this is not a home address.
You may also pay via PayPal to this email address:
Leilani@DaughtersoftheGoddess.com.
If you tell us that you are attending, you still need to pay for your space even if you don't show up. Once you RSVP, the ritual is designed based on your attendance. Each ritual is designed specifically for the women who have RSVP'd; therefore, work has been done and energy has been given towards creating a space for you whether or not you attend. Sorry, no refunds.
Please do not take photos at our rituals. We create a sacred and safe container in which to celebrate the Goddess and share in our Sacred Womyn's Mysteries. We realize that Facebook tagging has become popular, as has posting photos on personal/business websites to share, but we are respecting the integrity of our rituals through not taking photos.
Feel free to forward this to interested friends and family and tell them to give Kahuna Leilani a call.
If you have never been to the circle you need to call Kahuna Leilani first so she can meet you over the phone; this is not a drop in circle. Please do not show up if you have not contacted Kahuna Leilani first.
We know this sounds like a lot of rules, but it greatly helps the cohesiveness, safety, and integrity of the circle, and we don't use up precious ritual time going over these logistics.
Thanks for your kokua/help for helping us manage the wonderful growth we are experiencing in our Temple.
If you are interested in participation in a circle or an event, please contact Kahuna Leilani at the email below.
See you there.
~ Aloha, Leilani ~
Kahuna, Daughters of the Goddess Womyn's Temple
Leilani@DaughtersoftheGoddess.com
Follow us
Join Our Community
Daughters of the Goddess on Paypal
Use for Rituals, Workshops,
Zoom Sessions and Purchases.